Kathy Wilson's Cancer Journal
March 9, 2011
Dear Grandma,

I really miss you and I wish that you wouldn't have had to leave me.

I miss you so much and I think about you all the time.

Love, Amelia
Dear Mom,
It's been a year since I have hugged you. I miss our back scratch hugs. I miss your smile and infectuous laughter.
When you first passed on to the next phase of life I was in disbelief. I have called you and then I am snapped back into reality when I hear your phone has been disconnected. I still have dreams that you are alive and we hang out and I get to be with you for a few fleeting moments until I awaken.
I think of you everyday. I remember the many selfless things you did for us kids and the things you gave up in life so we could have a better one. You cleaned houses so I could take dance classes. On my tenth birthday you let me have three friends spend the night and you took your last twenty dollars and bought us McDonalds for dinner. You moved to California with me so I could afford to go to college and you gave me your car when you went back to Michigan. You always gave away everything you had. I was shocked when I went to Lou's house to gather your things and you actually had a few items that you kept for yourself. Mostly pictures and keepsakes from your many travels.
As a single mom with three kids, you went to college so you could give us a future. I am proud that there are so many patients that you helped that still think of you and the great care that you gave them. Your friends write me and tell me that they loved you so much and you were so good to them. There are many, many people in this life, Lou and his kids especially, you have touched and that miss you for the love you gave so freely.
Amelia has cried many tears in remembrance of you and the time you spent with her. She still sleeps in your bed to be near you and will forever be like you in the fact that she is so caring and sweet to everyone. She reminds me so much of you that it's almost like having you here, but not quite. Amelia is doing great in school and talks about being a nurse "who takes shots" but then says "or the doctor who just talks."
I still watch Chelsea Lately and when something is funny I think, "Mom would've loved that." Amelia and I will be watching Dancing with the Stars and pick out who would be your favorite and vote for them in your honor. I'm sorry that I just can't watch Young and the Restless, but Roberta does for you and wishes she could still talk to you about who is doing who.
You taught me so much and I pray I'll guide Amelia to live a fun-filled life like you did.
You will always be my best friend and I still consult you with my many problems and I know what you would say back to me and I smile.
Love you always, your daughter




Kathy Ann Wilson was born on July 11, 1952 and passed away in Los Angeles on March 9, 2010 at 57 years of age. She was a native of Otter Lake, MI and spent many memorable years of her childhood with her mother Jan Johnson who currently resides in Florida and her father Dale Johnson who preceded her in death four years ago. Kathy loved growing up on the lake with her sister Karan (Craig), and her brothers Bryan (Andrea) and Mark (Becky). Her favorite holidays included visits from her Uncle George Thornton, and her Aunts Beverly McKinstry and Isabel Kinser and her many adoring cousins. Kathy graduated from Lakeville High School and went on to earn her nursing degree from Mott College. She became the devoted mother of Gary, Lisa (Mark), and Tom (Stacy) with beloved grandchildren Andrew, Samantha, Mickenzie, Quentin, Amelia, and Connor. Five years ago she was lucky enough to reconnect with her childhood sweetheart and best friend, Louis Donagrandi and will be missed by him and his children, Louie and Danielle, and family.As a registered nurse Kathy traveled to Hawaii, Florida and California. Her patients at the many hospitals including Genesys Regional experienced a truly caring nurse. She spent most of her life enjoying good health, but in the past two years she incurred multiple rare cancers, all of which she faced with grace and beauty. She was a hero to all as she donated her body for further research of melanoma and carcinoid cancers. Her loving family will remember her as a beautiful and amazing woman who will forever be in their hearts. Her many nieces, nephews and multitude of friends will cherish her generosity, selflessness, and hilarious sense of humor.
As per Kathy's request there will not be a memorial and in lieu of flowers a donation can be made to the Kathy Wilson Melanoma Research Fund via the Jonsson Cancer Center Foundation, Factor Building Room 8-950, Box 951780, Los Angeles, CA 90095-1780.
March 9, 2010
Kathy said to me today that she was going home and she did
tonight as at 7:47 she took her last breath. She was beautiful
and amazing and I will miss her with all my heart.
She wanted her body studied to help others so UCLA
arranged for Southwest Mortuary to take her to the
research hospital. She always had a love of airplanes
so her way of telling us she is happy is that she took
the 747 on Southwest.
Love to all, she loved everyone and as much as we miss her
she is healthy and cancer free in heaven.

March 10, 2010
UCLA pathology called to thank everyone for supporting
Kathy's wishes to have her body studied. They said
it's a win/win situation because Kathy is at peace and
she is helping in desperately needed research for present
and future melanoma patients. Dr. Ribas just called to
say he is doing a cell line from the melanoma to
study the DNA to see the relationship with the growth
and the treatment. He apologized that they don't know
more about melanoma but if he learns anything from
this tissue he will let us know. He thanks us and said
Kathy was an amazing patient and person.

As most of you are aware, Kathy did not want a memorial. She didn't want everyone sitting around crying
and watching a slide show of photos of her. I know it sounds weird as it's normal to have a gathering to
offer closure but she was unique from the core and her belief is that everyone should be smiling and remembering
her as a happy, loving person who wanted to have fun and help others.
If you feel like you would like to do something please make a donation to the
Kathy Wilson Melanoma Research Fund so that her last wish to help others will be fulfilled.
Thank you for your prayers, love, and support.
Online donations can be made at:
Jonsson Cancer Center Foundation

Please note that it is for the Kathy Wilson Melanoma Research Fund
in the comments field and put that it is a Tribute (Specific research area) in the first drop-down menu

Donations can be mailed to:
Jonsson Cancer Center Foundation
Factor Building Room 8-950
Box 951780
Los Angeles, CA 90095-1780

Checks payable to Jonsson Cancer Center Foundation

You can shed tears that they are gone, or you can smile because they lived.
You can close your eyes and pray that they'll come back, or you can open your eyes and see all they left.
Your heart can be empty because you can't see them, or you can be full of the love you shared.
You can turn your back on tomorrow and live yesterday, or you can be happy for tomorrow because of yesterday.
You can remember only that they are gone, or you can cherish their memory and let it live on.
You can cry and close your mind, be empty and turn your back.
Or... You can do what they'd want: SMILE, OPEN YOUR EYES, LOVE AND GO ON.
I watched this again this morning and laughed so hard.

March 9, 2010
Kathy is doing ok, she tried to go cold turkey on her pain meds
but that didn't go so well so now she is taking her meds again.
I just drove Karan to the airport ;-( she helped out more
than I can type, she's a nurse at heart and the best sis Kath could have.
Kathy isn't getting on the computer to check facebook anymore
so if there are no objections I'm going to close her account.
I closed mine because I don't have time for it and
she doesn't have the energy to sit up and type or read for
that matter so again, just email me and I'll read it to her.
Uncle Bryan and family are flying out for a long weekend
so Amelia is over the moon that Kelsey can sleep in her
room with her. FYI - Kelsey, Amelia wants you to sleep
in her room ;-)
March 3, 2010
Karan arrived safely and Kathy is having a great time with her. They
have been watching TV together and mom has been getting up to eat
at the table. Karan has been a great motivator to stay awake.
March 1, 2010
Karan arrives tonight at 9:30pm and Kathy will be waiting up on her bed.
There are days when she takes an extra pain pill and there are days
that she doesn't leave her bed but her smile is constant.
Her brother Bryan and his family will be here right after Karan leaves next
week. Thanks for everyones emails and cards. They are much appreciated.
February 24, 2010
Kathy is excited that her sister Karan is coming to visit from the 1st to the 9th
of March. Of course Amelia and I are excited too.
February 22, 2010
Kathy's kidney function has returned to normal and her liver is staying consistant
with previous tests before the hospitalization. Today is what she calls a "bad day"
as she is now using the bedside commode and feels terrible. The last few
days have been better as she has been making it out to the table to eat.
Her edema is pretty bad so I'm going to have to make her put on the
stockings that compress her legs. She says it feels like pins are
pushing into her feet. I think she needs something to look forward
to so if anyone else would like to visit please let me know.
Kathy has an open invite now that she has gotten over her
bald head and pajama embarrassment. I told her I was taking her to
Hawaii in a wheel chair and she said no. I wish we had gone when she felt
good enough to travel.
February 17th, 2010
Dr. Ribas is concerned with the swelling in her legs but is going to be conservative
with the diuretics so the kidneys are not further damaged. He wants to see her again
soon so he can monitor her and will not allow any more CT's with contrast, ever.
He took blood to do function tests and will let us know the rusults ASAP.
She did great with the walker and even came home to sit in the chair
instead of napping in her room. Huge improvements!!!!
February 16, 2010
Wow! Five days can fly by. Kathy is doing amazingly better. She is sitting on the porch
with Lou right now. She is using her walker and is still sleeping most of the day but
is regaining her strength. She has an appointment with Dr. Ribas tomorrow at 2:00pm.
He will do a kidney and liver function test and a physical exam. It's been a crazy 5 days.
We left the hospital Thursday night, Tom and Stacy came in Friday night,
Mark and Becky left Saturday morning, Tom and Stacy flew back home Sunday
night and Lou came in from Michigan on Sunday night. He is here until Friday morning.
With almost daily trips to LAX and errands and Amelia's school functions and trying
to catch up on my sleep I've had no time to update this, so I apologize and will
update it tomorrow after the doctors appointment.
Love to all.
February 11, 2010
Her kidneys had gone to sleep so the doctors said there's not much we can do
so call the family and get them out here. It's very rare that kidneys wake up after
shutting down in a day to 30%. Well, the doctors never met Kathy. She's rare from the
core and her kidneys have almost come back full force. The kidney doctor
came in and said he's signing off. He couldn't pinpoint the infection that took
over but whatever it was, it's gone. The physical therapist came and got her
walking the halls with a walker and is ordering one for home use.
Another doctor just came in and said we are going home today!!!!
Thanks to everyone who prayed. One of my best friends, Roberta,
started going to church (after years of sabbatical) to pray for Mom and I now,
more than ever, have faith that prayer works. Also, Karan's prayer network
has been on double time praying for her kidneys. One of my other
best friends Amy, her Mom, Vickie, had a healing ceremony at a catholic church for
her on Tuesday night. The Buckleys had a Perpetual Mass Enrollment done for her.
Bonnie and Chloe have lit prayer candles at the catholic church in her honor.
There are so many amazing emails, calls and cards from all of Kathy's friends
and family, too many to list... and we are so grateful for everyone we have in our lives.
It's a miracle and we are so happy we will have many more days of Kathy's smile.

February 10, 2010 8:10pm
Uncle Mark doesn't know why he came because Mom looks so good today.
She said "if he saw me 2 days ago he wouldn't be saying that,
I thought I had days to live."
The doctor had come in yesterday and asked if mom would consider dialysis.
But now her kidney is doing much better and her liver levels are up.
He blood pressure went from 80 over 40 to 101 over 70 today.
The doctors are still growing cultures on her blood to see what
type of infection she has as they have tried 4 different antibiotics
and nothing has worked. She is on a low blood pressure pill now
after being on a high blood pressure pill for many years.
Mark made her get out of bed and sit in a chair. She still has
a foley and the PICC line in but they took her off pushed fluids.
She is on a low potassium diet as her kidney is still not great
and unfortunately her favorite foods are bananas and yogurt,
both high in potassium. Bummer.
We are hoping to go home on Friday.
February 10, 2010
The doctor came in and said her creatine levels are slowly going down
from 2.1 to 1.8 today! That means her kidney is starting to recoup from
the 5, that's right 5 CT scans in a month! That's a lot of septic contrast in her blood.
Mark and Becky are here and she is in great spirits.
Kathy's Quote of the Day
It sure was a lot easier when I only had to decide between Walmart or Target.
February 9, 2010 1:00pm
A kidney doctor just came in and said her kidney is only functioning at
30-40% and it's because of having too many CT scans as the contrast
is toxic to the kidneys. So they are hoping it stabilizes and she doesn't
loose anymore function or she will need dialysis. We are still waiting for the
team of oncologists to let us know what they think about the blood pressure.
Her breathing is a little labored. She is stepping down off the pain meds
as they had doubled all the doses and she wants to go back to the amount
she was on before this last treatment.
February 9, 2010
The doctor just came in and said her concerns are kidney function and low
blood pressure. It seems Kathy might have an UTI so she is going to add
another antibiotic to the regimen and take away the high blood pressure pill.
She is doing so much better. Her liver function is doing better.
Her brain is functioning so much better. She was saying
really funny things that didn't make sense so as much as I
was laughing I was very concerned as was the doctor all day yesterday.
The doctor was amazed at how much better she could
answer questions and keep her words in the correct order.
I think the IV with the fluids is really helping as she hadn't kept anything down
for at least 24 hours. Also, just having a private room so isn't hearing another
person non-stop and being woke up non-stop helps with the confusion.
We are still unsure of when she will be discharged as she has
to be stable with her mind, body and pain level.
Kathy is very happy that Mark and Becky will be here tonight,
Tom and Stacy will be coming Friday night and Lou will
be arriving on Valentines Day!

February 8, 2010 - 3:15pm
We just got up to the oncology room and an RN is installing a PICC line to run
fluids as she is getting dehydrated from not keeping liquids down.
Her liver function test is not good so that means either she isn't
getting enough fluids or the liver is overwhelmed with the chemo.
We are hoping she starts to feel better with the new pain meds.
Uncle Bryan will be pleased to know that a shower is in my near
future so I won't be smelling up the joint and keeping the nurses away.

February 8, 2010
Still on the wrong floor where they are not used to chemo and
cancer patients so that's annoying. The dilauded is causing her
to hallucinate so the doctor this morning said that she would
change her to another type of pain killer but never wrote it up so at
9:00 the nurse tried to give it to her and we refused it. Then she
just came back in at 10:00 with another round of it and AGAIN I asked
her to call the doctor as she obviously didn't do it the first time.
Mom sat up a little this morning when we changed her bedding
and washed her and is now resting in bed. She's very weak and
I feel so helpless, I really wish I would've become a doctor so
I could just give her the pain meds she needs and I would've
been able to pull strings to get her into the trial for melanoma
with the better chemo even with her carcinoids.
The doctor this morning was supposed to order her
the sandostatin shot as we were supposed to be at the
other UCLA branch in Westwood getting it today.
But since she didn't write anything I'm assuming I'll have
to find another doctor to order it. Dr. Ribas left yesterday
for a speaking panel on melanoma so he's not here to help.
There should be a radiologist coming by for a followup from
the procedure so I'll beg him to make the orders.
I'm so proud of my mom for being a nurse, they were
all impressed here with her list of hospitals she's worked at.
The strength she is showing now is amazing. I haven't told her that the
chemo didn't work but she senses it and said to me,
"I may not be able to say goodbye to everyone but eveyone knows
how much I love them and I would've gotten back if I possibly could have."
I told her that if she wanted to cry she could or if she wanted
to talk about any fear she has and she said she doesn't feel fear.
The weird thing about a terminal illness is that you fight and fight it
but in the end God always wins. The time she has fought for has allowed
us all to enjoy more time with her. I feel so lucky to have her as a mom and
as a best friend. She told me once that I was a good mom and I
told her that she showed me how to love and give what
I could of myself to help others. I'm sad that she is in
so much pain...the doctor just came back and gave her
30mgs of Oxycodone so if that works and she starts to be less
foggy then maybe tomorrow she can go home.
Love to everyone, xoxo
February 7, 2010 7:30pm
Mom is waiting to get a picc line as there are no veins left to
IV anymore. No one works on the weekends so through the
night she will be getting oral meds for pain. She is anxiously
awaiting her boyfriend Lou to come see her on Valentines Day!
Tom and Stacy are coming next weekend to visit her.
No beds in oncology yet which is beyond sad that everyone
must know someone with cancer at this point in our lives.
They did get me a roll away bed so I'm sooo excited!
February 7, 2010 4:30
Dr. Ribas is worried as the tumors are advancing despite chemo.
There are no guarantees in life and it's important to always share
with your loved ones how much you love them.
If anyone would like me to tell something to Kathy for you, as
she doesn't check her emails or take phone calls at this point,
please email candydishent@gmail.com and I'll make sure she
hears your message. We will be at the hospital for a few days and
then hopefully will be home with some sort of pain management for her.
She's on a lot of heavy medication so she's keeping us laughing...what
she does best on and off drugs. She thought our friend Josh was Payton
Manning and wondered why we call him Josh. The nurses are on their 5th vein as
the chemo has made it difficult to find one that will support the IV.
She loves everyone and misses Michigan and all her friends and family.
We are still waiting to be moved to oncology.
The superbowl is on and she said "I'm not supposed to be playing,
I'm just supposed to be here in this bed."
February 7, 2010 8:30
The nurse just read Kathy's chart and told us that there is an increase in
size of the liver lesions. Mom was so funny when she was out of it.
I heard her tell the nurse that she has never spent the night in the hospital before.
Everyone will be glad to know she is back to normal this morning.
The oncology doctor just came in and said that once her pain
is under control and she gets some strength back she will go home.
Dr. Ribas is going to come up with a plan and talk to her today or
tomorrow. It is Superbowl Sunday so there is much excitement in
the hospital. I just ordered up a margarita and chips and salsa and
by that I mean a red jello and toast.
Kathy's Quote of the Day:
Mom looked at me this morning and said "Who are you?"
and my eyes popped out of my head and then she said "just kidding,
wouldn't that be awful if I didn't remember you?"
February 6, 2010 once again...10:30PM
Kathy was admitted to the hospital and since the oncology floor is full we
are on the Med/Surg floor. We don't know the results of the CT scan
or of the blood work since there is no doctor on the floor to tell us.
Maybe if we were on the oncology floor.... We are in a double room
so I'll be sleeping in a chair tonight. I just can't leave her as she is having
trouble making decisions. They offered her a foley but she couldn't
decide so I suggested the bed pan if need be. I think the dilaudid is very strong.
They are very nice here and have agreed to let me stay even though it's not
really done in this unit. As soon as a doctor does rounds in the morning and
can tell us anything I will let you know. She just asked for the foley.
The nurse said it's common to have a foggy mind when on the pain meds she's on.
February 6, 2010 continued...
About 1:00pm I emailed Dr. Ribas that Kathy's pain was unbearable even with
the MS Contin and the Oxycodone so he told me to bring her to the ER.
They ordered a CT scan so around 6:30pm she will be taken to Radiology.
She in on an IV drip as she hasn't kept any food down in a few days.
They are pushing Dilaudid through her IV and took labs to check her CBC's.
I would've called everyone but my cell doesn't work in the ER.
When we find out what is going on and they make a decision about whether
they will keep her here or send her home I'll let eveyone know.
Thank you for understanding.
February 6, 2010
As I'm going through the paperwork for each procedure, I added up the
total for one round of full body chemo: $15,000.
Wow! No wonder the doctors push it so much as it averages $3,000
per hour when she's sitting in the chemo room.
Another bad day today. We were up at 3:30am hanging out.
February 5, 2010
Today is the 2 year anniversary of the day I got the call from mom saying,
"I have cancer in my eye."
I had no idea of the crazy 2 year ride we would all take with her and looking
back, eye cancer was the least of her worries.
I started a timeline today to submit to Aflac as we didn't realize all the cancer
benefits mom is entitled to. I need to send verification of every treatment
so I started looking back over all the office visits, scans, tests, blood work,
procedures, biopsies, surgeries, hospital stays, chemo, embolizations
and I realize that any other person would have given up a long time ago.
For a few weeks we thought she had a brain tumor thanks to a nurse
reading the results wrong. People ask me if she is getting the best treatment possible
at UCLA, and when I realized today that she waited 2 months
from the date of diagnosis of lung cancer just to get a biopsy to see
what cancer it was, that it was Dr. Ribas who insisted on an immediate lung biopsy
and scheduled it ASAP. We had been to four other doctors who told her wait.
It's Dr. Ribas who ordered a different chemo for the left side of her liver
to see which chemo works the best. So, yeah, she's with the right doctor.
Mom is not feeling good today, she can't keep anything down, she is in pain.
Today is not what she calls "a good day" but after all that she's gone through
in the last 2 years no one should expect her to be skipping.
Kathy's Quote of the Day
zzzzzzzzzzzzzzzz
February 4th, 2010
She is so much better than the last time. She will definitely go home today.
At midnight we went to sleep, at 2:00 vitals, 4:00 the nurse said "at
6:30 you are going to get up and go for a walk." and at 6:30am she
came back and Kathy walked the hallways...I slept. She was excited
that she got more excercise in the hospital then she does out of it. Then we were
up at 8:00 for good. A little Regis and Kelly then the Annoying Women
of the View which brings her right to her favorite, The Young and the Restless.
So far....her best day of being awake and watching television in months.
It is technically impossible for her to do her two favorite things in the world at the same time...
sleep and watch TV.
The doctor just came in and said within 2 hours we should be out of here!!!!

Kathy's Quote of the Day
Love and miss you all and can't wait to party...on a good day ;-)
February 3rd, 2010 continued...
She is out of recovery and in her room and she seems much more with it then last time.
She said a lot less pain and discomfort all around. She hopes to only be here one night.
Thanks for everyones prayers!
Kathy's Quote of the Day
We came into the room and it's half the size of the last room and mom said
"They must have known I lost weight"
February 3rd, 2010
We arrived at the hospital at 10:30 and 4 hours later (2:30) she was taken into
the CT room to have the chemo put into her left side of her liver.
Dr. Loh and Dr. Ribas agreed that they should try another
type of chemo to see which works better. So in about 2 hours
she should be done and then she will get her room. She seemed in
good spirits until Dr. Loh said "in 3 weeks when we do the right side again..."
One more thing....
Miss I'll do it myself (now I know where Amelia gets it) tried to reach a
towel on a chair while in bed and the whole mattress with her on it almost
fell off the bed. The nurses yelled at her and then they put the safety bars up.
I laughed so hard and mom said, "just trying to have some excitement
around here." Then within 5 minutes a code blue was called as a man
couldn't breath so she got her wish.
February 1st, 2010
Kathy is psyching up for Wednesday's procedure and wants everyone
to know that when you don't hear from her she's sleeping.
Kathy's Quote of the Day
Knock, Knock...
Who's there?
India.
India Who?
India day and night I sleep.
January 29th, 2010
Kathy and I just finished watching Julie and Julia, a very sweet movie.
She has a little bit more energy than usual so it looks like a good day.
Check out:
Amelia's Latest Video

Kathy's Quote of the Day
I asked her if she wanted to go for a walk down to the corner and she said
"that would mean I would have to get dressed and I was thinking more along
the lines of a nap before lunch."
January 28th, 2010
Kathy is mostly resting during the day so she can be up for American Idol at night.
Today while we volunteered at the homeless shelter a little girl asked if Amelia
could have a sleepover with her. So cute!
Kathy's Quote of the Day
Take it one minute at a time.
January 26th, 2010
Kathy's second infusion is scheduled for the 3rd of February. We were
waiting for the insurance to approve it only to find out that they already
had approved 4 visits. Apparently UCLA didn't realize they requested
them already. We started watching the Dateline special about insurance
and illness and after 5 minutes turned it off. It just hit too close to home.

Kathy's Quote of the Day
Life is short, live it good.
January 23, 2010
She's been up a little bit today and is hopeful that the chemo is working.
Kathy's Quote of the Day
I'm not dying of liver cancer, I'm living with liver cancer.
January 22, 2010
Kathy is feeling so much better. She only threw up once today and she was awake
75% of the day. We are still waiting for the approval from the insurance company
to get her other side of her liver treated. Once it's approved, we can schedule it.

Kathy's Quote of the Day
My family and friends are my angels on earth.
January 21, 2010 7:00pm
Dr. Ribas put Kathy on a couple of different diuretics and told her to keep her feet up
and to schedule her other side of her liver for infusion in two weeks.
I had to go to two different drug stores to get her pills so that was fun in the crazy rain we're having.
With all the competition it seems one drug store would hire enough help
to get prescriptions filled in a timely manner. Personally, I think they say it will
take 45 minutes because they know if you walk around long enough you will buy something.
I also found out the hard way that not every drug store carries every medicine
and if you call they will not check stock on the phone, you have to drive there.
I guess on your way to the pharmacy in the back of the store you might see something you need to buy.
January 21, 2010
Kathy's feet and ankles are so swollen that Dr. Ribas wants to see her, so off to UCLA
we go today at 3:30. She is starting to eat more and stay out of bed for longer intervals.
Everyone keeps asking me (Lisa) if I'm doing ok. I just want everyone to know that
I feel lucky to be able to take care of her, like she took care of me, when I needed her.
As a child I always felt very cared for and if I got the slightest cold we were at
Dr. Pagents getting shots. If I can make her feel that way then I'm honored to
be able to give back just a little of what she gave me my entire life.
Kathy's Quote of the Day
Totally look back, yesterday was not awesome.
January 20, 2010
Today the exciting event will be watching a screener of It's Complicated.
Alec Baldwin is a genius. We are waiting to get the appointment scheduled for
the other side of her liver. So far she feels that the chemo isn't helping but
Dr. Loh said it takes up to a month to see results. She is slowly starting to
come out of her room to watch the TIVO in the living room.
She wondered why I didn't put TIVO in her room...

Kathy's Quote of the Day:
Don't look back, today can be awesome.
January 19th, 2010
A lot of Kathy's friends and family have expressed their desires to come visit her.
I want everyone to know that I'm not a gate keeper making everyone stay out.
She doesn't want to have anyone see her like this and she would feel like she needs
to entertain and hang out with the visitors and she just wants to sleep.
She won't even take her turban off in front of Amelia, and only in front of me when she gets too hot.
If she starts to feel better than all this will change but for now, she just wants
to be alone and come to terms with what is going on with her body.
If you want to send her a message, send it to my email candydishent@gmail.com
and I will read it to her. She hasn't had the energy to check her own email in a while.
She loves all of you and prays to be able to see everyone again.
The thing that keeps her going is her hopes to travel back to Michigan to spend time with you.
Kathy's Quote of the Day:
Only attend a party if you are invited, not that this is a party!
(Her sense of humor is still intact and she said that to make us all laugh.)
January 18th, 2010
Today Kathy watched Up in the Air, the new George Clooney film, as our friend
Julie gave us an Academy screener copy of it. She threw up a few times during it but not because
George is hard to watch. The Zofran for nausea, which is not covered by her insurance,
is $10 a pill but I found a Canadian pharmacy that sells 90 pills for $90.
They just came in the mail 20 days later from Germany and it really helps her nausea.
The United States pharmacy's are making a fortune off cancer patients.
Kathy's Quote of the Day:
I have eye, lung, and liver cancer. I have no thymus or thyroid and I have
high blood pressure and kidney stones.
For the love of God, I only have working limbs left!
January 17th, 2010
She is 4 days out of chemo and is doing great. She has been up most of the morning and
is smiling and laughing. I went to a Native American Sweat last night to be part of a Healing
Ceremony for her. We were up in the Big Rock Mountains north of Los Angeles.
It was beautiful, spiritual, and a loving environment to pray for her healing.
The third round of the sweat was women only, around fifteen in long dresses, the only males
were the medicine man, my friend Charles, a drummer, and a singer.
Charles, who is an elder, had me hold his sacred pipe during the ceremony.
He filled it with tobacco and had to smoke the whole pipe alone
so he could ask the Grandfather, our creator, to be with Kathy.
It was so amazing to be part a such a special tradition.
The medicine man said that her spirit guides are strong and are trying to heal
her diseased body but that she shouldn't fear the journey of her spirit traveling to her creator.
We will all be with her again when our creator calls us home.

Kathy's Quote of the Day:
My chemo brain is making me forget so much, hopefully I will forget
I have liver cancer.
January 16th, 2010
Kathy is safe and sound at home with at least 5 new medications to add to her
daily list of perscription pills. Dr. Ribas wants her to get the other side of
her liver infused in 3 weeks and then have a CT done a month after that
to check the progress of the chemo. For now she is resting and catching
up with The Young and the Restless.

Kathy's Quote of the Day:
Don't get cancer, it sucks!

January 15th, 2010 - 5:10pm
Just arrived home from the hospital. Kathy is laying down in her bed and
I'm off to fill her perscriptions. Thank you for your calls and concerns.
January 15th, 2010
Good morning Uncle Bryan! Mom is doing so much better. The doctors are going to try to
get her on pill form pain relief again today. She was watching Kelly and Mark this morning.
FYI all you men out there, watch Regis and Kelly, she seems very annoyed with her husband.
She's one step away from Kate, bashing John and now ditching her 8 kids, annoyed.
So when you think your wife is mean to you take pride that at least not everyone in the world knows it.
Back to Kathy- she seems excited at the possibility of going home.
Update to the shower: Yes I took one but won't be today, as it's the kind you have to
hold, and the one-handed hair wash job that I could manage was not great.
Amelia was very cute in the room last night entertaining Grandma with her karate
kicks and singing. Mark brought the best chocolate cake and Kathy ate the
first thing she kept down- the cherry on top.

Kathy's Quote of the Day:
After holding the doctors ice cold hand up to her hot forehead:
"Don't worry, I do this to all the doctors."

January 14th, 2010 - 12:30pm
The doctor just came in and won't release her to go home today as she is still vomiting and
needs to be able to hold down pills before she can leave. The great shower debate is on
for me. To shower or not to shower...that is my big dilema today. I will be sleeping here
again so I might just stay in my sweats and since hospitals smell funny anyway, why bother
smelling good? Amelia and Mark will come up this afternoon to visit. Kathy is smiling
and making me laugh like always. I love my mommy.
January 14, 2010
Kathy did really well during the infusion through catheters to her liver with Doxorubicin Hydrochloride and Mitomycin.
She was kept through the night for observation and we actually managed to sleep from
5:00am to 8:15am so we woke up very happy. All her counts and blood levels are good.
As soon as they work out a pain management plan she will be going home.
The procedure started at 12:50pm and was finished at 3:00pm. Stu and Bonnie came to sit
with me and visit her when she woke up. Josh and Amy brought flowers and a teddy bear
that Kathy named Faith. We watched American Idol together and Kathy was in good spirits..
Bonnie took communion on Kathy's behalf from a priest in the hospital room.
UCLA Santa Monica Hospital is great, the nurses are on top of it and we
have a nice, private room.

Kathy's Quote of the Day:
"If I die, don't tell anyone. Tom can never know. If he calls just tell him--'You just missed her.'"

January 8, 2010
Kathy is scheduled to have chemoembolization on January 13th at UCLA Santa Monica Hospital.
She will be admitted at 10:30am for pre-op and then 12:30pm for the surgery.
She will be in the hostpital 2-3 days. Dr. Loh will discuss when she will have the
other side done once he is through with the first side.
Thanks for all your prayers.
January 4, 2010
Dr. Ribas walked into the room and said, "The Chemo is not working but we have a plan."
He is sending her to the UCLA hospital in Santa Monica to be treated by
a radiologist named Dr. Loh who will embolize chemo directly into her liver.
The tumors have doubled in size and are almost 9cm on both sides of her liver.
The surgery to infuse Melphan and other types of chemo will be done in two rounds,
a few days apart with short hospital stays. The radiologist will use catheters to block off
the arteries so the chemo will not travel through her body. Kathy is hopeful that
this procedure will shrink the tumors and she can travel back to Michigan to see everyone.
December 31, 2009
Kathy had Chemo on Monday, a CT Scan on Tuesday and again on Wednesday
as they didn't get all the scans they needed the first day. We go back to UCLA on Monday
at 4:00pm, Pacific Time, for her Sandostatin shot and to find out the results of the CT Scan.
I promise to update the website Monday night with the news from Dr. Ribas.
Kathy's having a rockin New Years with Anderson Cooper and Kathy Griffin.
Her mother Jan is happy to see Kathy up and around for the first time since she
arrived from Florida twelve days ago.
Happy New Year to Everyone!
December 26, 2009
Sorry it's been so long but my new laptop was a lemon and I had to send it in to get repaired.
Chemo on Monday again, then a CT the next week. Kathy is feeling nauseated and just not good.
She got up early on Christmas morning to watch Amelia open her presents and then rested in
bed most of the day. Her mother Jan has been here a week and it's been great having someone
to help clean up and play with Amelia, who's off on break. It has been a fun and memorable
holiday having four generations of women together. What I've learned from being around
my mom who's in constant pain is that when she feels like talking, she doesn't want to talk about
cancer or death. So a little advice for anyone who has a friend or family member who is sick, do
not feel the need to tell them about someone else who has beat cancer or who has not.
Don't tell them that everyone is crying and sad and wishes they could do something to help.
Don't make them feel like they are dying because life is before death and now is the time to really live.
Just be there to listen and if they don't talk, then they need to rest so leave them alone.
Supply them with water, healthy food, medicine and love.
Appreciate every second and realize what a gift this person is to you.
Take that gift and be a gift to someone else.
December 5, 2009
What a crazy ride cancer takes you on. Every day brings a new set of challenges to deal with.
Kathy finally got her Sandostatin shot 2 weeks late (we had to fight the insurance co.)
She coughed so hard she bruised her ribs and is in constant pain. Her employer cancelled her
insurance and because we had her mail forwarded from Michigan we got the letter 3 days after the fact.
We had to beg for perscriptions to be called in for nausea, her thyroid and pain killers.
Just a few days late as now we have to pay for the perscriptions.
Signed up for cobra yesterday after we got back from 6 hours of chemo.
She had a temp of over 102 on Thursday night but they still gave her chemo.
They don't make it easy to be sick with cancer, as if cancer isn't hard enough.


November 23, 2009
The trip to Bethel Church in Redding, CA was wonderful. Kathy received a healing and sang and
danced in the front seat all the way home. We drove up to Mt. Shasta and Amelia got to feel the snow.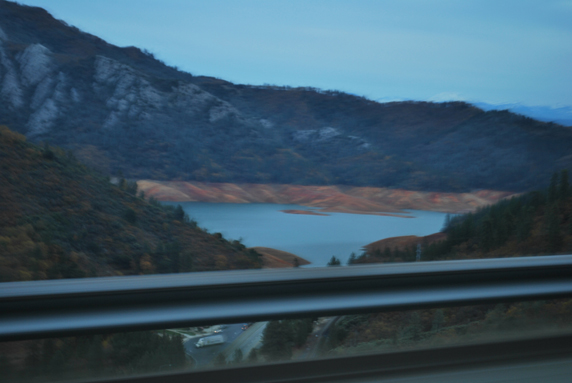 November 17, 2009
Saturday Kathy felt great, Sunday the chemo sickness kicked in and by Monday
she still didn't feel good enough to go to Dancing with the Stars.
But she went and put on a game face and tried to have a great time despite the nausea,
muscle and joint aches. Thanks to Gwen and Regina at General Hospital, we got front row seats!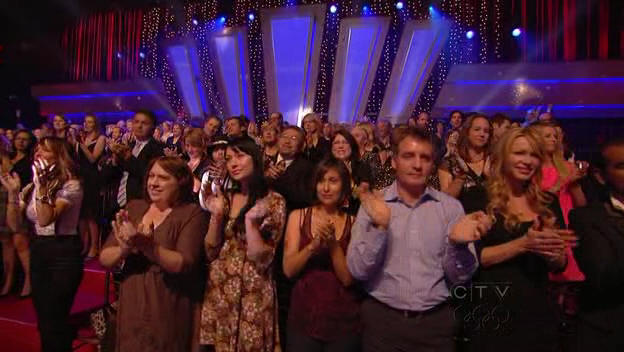 November 13, 2009
After 6 hours of chemo and about 8 hours of sleep, Kathy woke up and said, "I feel great!"
November 12, 2009
Yesterday was a wirlwind of a day. In the morning, Kathy got a call from Pittsburgh
telling her they would treat her with Isolated Hepetic Profusion so we were all set to go there.
Then around 2:00 we got a phone call telling us that the surgery is over $500,000.
Dr. Ribas said to not go as if it were a cure then that price would be cheap but there
are no guarantees. Tomorrow morning Kathy will get chemo at UCLA with our angel Dr. Ribas.
If anyone gets diagnosed with Melanoma the first call should be to Dr. Ribas as he is the most
caring, wonderful doctor we could ever have found.
We are so excited about Aunt Karan flying out to go to a healing retreat that
Uncle Mark found at The Healing Room at Bethel Church.
We are so blessed to have such amazing friends like Aunt Bonnie who brought
over a cancer book that Kathy can't put down. It will come in useful
during the 5 hours of chemo treatment tomorrow.
Our good friend Amy gave Kathy the number to a woman who beat
liver cancer and she got to talk to her and hear her amazing story.
Thank you to everyone for their prayers and love.

November 10, 2009
Finally!! Chemo is scheduled for this Friday at 8am at UCLA.
She will be given Carbo/Taxol with rounds every 21 days.
November 9, 2009
It seems that we will not be going to Pittsburgh for now as she needs to start
treatment and Dr. Pingpank hasn't made a decision about treating her with the
Delcath System which is $20,000 a round of chemo and her insurance
probably wouldn't approve the experimental treatment anyway.
So Dr. Ribas has requested a week ago for systemic chemo here and
surprise surprise, it still hasn't gone through. It's amazing how the staff
at her primary doctor's office cannot seem to handle simple tasks like
calling the insurance company and saying "we approve her to be treated
by Dr. Ribas and allow her Chemo."
November 4, 2009
After contacting 12 different trial sites for the Hepatic Arterial Infusion with Melphalan with
Venous Filtration via Peripheral Hepatic Perfusion (Delcath System) we found one
doctor in Pittsburgh who will take a look at her scans and decide if he will treat her.
Since she has 2 different cancers she is not eligible to be in the trial but Dr. Pingpank
at the University of Pittsburgh has clearance to treat patients on a compasionate
exemption basis and I overnighted all her medical paperwork, cd's of her MRI's and PET scan, etc.
We should know in the next few days if we need to head to Pittsburgh, otherwise Dr. Ribas at UCLA
has ordered the chemo that will go into her entire system that she can start next week.
We got the results of the PET scan today and are still waiting for the results of the biopsy of the liver.

November 2, 2009 part 2
Dr. Ribas gave her two options for treatment. One: to go to the National Cancer Institute for
chemo directed to the liver and two: to get chemo here in Los Angeles.
As soon as they open in the morning we will find out if she's a candidate for Hepatic Arterial Infusion viv PHP.
November 2, 2009
Thank God for Janis at Health Plus. Kathy's PCP never did their job last week so Janis
pushed through the approval for the PET scan today at 1:00 and the appointment with Dr. Ribas
at 3:30. When we get back we will update with the treatment options Dr. Ribas suggests.
October 29, 2009
The Brain MRI came back negative for cancer and the Chest CT shows no new tumors
in her lungs. This is GREAT NEWS!! Stacy and Tom went with her this morning for her surgery.
She did great during the biopsy of the liver and says with 2 valiums and vicodins she didn't feel a thing.
UCLA wanted a piece of the liver tumor to biopsy and they wanted it shipped on dry ice.
The hospitals in Michigan have never been asked to ship tissue that way and didn't have any.
They called around to ice cream companies to find dry ice. Kathy had to wait for the biopsy
to start until they located it but she had already taken her chill pills so she was fine.

October 28, 2009
Kathy's CT Biopsy is tomorrow morning and she is in the MRI machine right now.
She flies to California on Saturday with her brother Mark.
Monday morning she will have the PET scan done at the Angeles Clinic and
at her afternoon appointment with Dr. Ribas she will discuss treatment options.
October 27, 2009
Still no tests ordered from the primary to check the extent of the metastatic disease.
One email to Dr. Ribas at UCLA and he immediately set up an appointment for Monday and asked for
a whole body PET CT, liver function tests, MRI of the Brain, and Biopsy of the liver lesion.
Now the tricky part- getting Kathy's primary doctor to order the tests and set them up.
After 3 business days, still no tests so Stacy, who is an office manager at a urology clinic,
got on the phone and set up all the appointments herself. Kathy cannot get treatment
until they know where exactly the cancer is. With a fast, aggressive cancer like metastatic
melanoma every minute counts. She will be on a plane by Saturday and come to a state
where it's warm and doctors know what a Metastatic Survey is.
We should have known to switch primary care physicians last year when they told
her she had a brain tumor and she didn't. For weeks doctors would say they couldn't treat
her because of the brain tumor. The added stress thinking she had eye, lung and brain cancer was
enormous. They cannot even read reports correctly,
I guess they shouldn't be expected to know what to do when someone has cancer.

October 23, 2009
After 3 weeks of servere pain in her lower abdomin it took Stacy, her daughter-in-law, to
order a CT scan of her abdomin. She had gone to her primary and to the ER twice and they
treated her for a Urinary Tract Infection and for Shingles. Even though they knew her history of
melanoma, no one ordered scans to see if the pain was from a metastatic lesion from the Ocular Melanoma.
The CT revealed numerous lesions that range in size from 7 mm to 4.5 cm and are consistant with metastases.
2008 - Hi!! It's Kathy from Clarkston Michigan. I'm slowly getting settled. I'm feeling pretty good, except for being short of breath sometimes and a cough. I'm still seeing a lot of doctors. I thought I would have a break, but no way. I started my shot (not to bad). I've had labs drawn and will have a pulmonary function test on the 13th. It doesn't seem right, that Lisa my daughter is not here with me. I have seen a lot of you that supported me through this and it was great to get really good hugs from everyone. I've been to a couple of family reunions and enjoyed 2 weeks with my mother before she went back to Florida. She was so glad to hold me in her arms. I really miss all my friend in California and especially Lisa and Amelia. We talk often on the phone. Love to all Kathy
July 11, 2008
Happy Birthday Kathy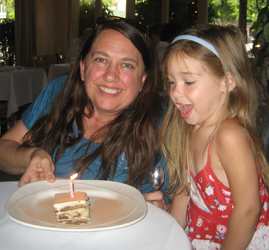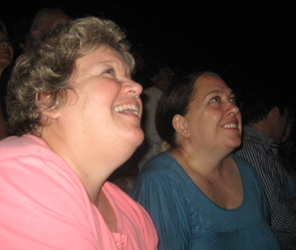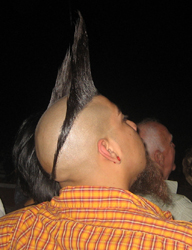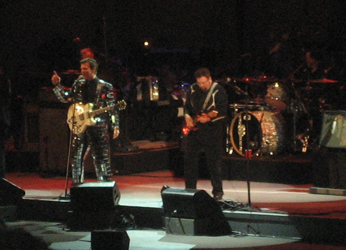 Birthday Dinner with Amelia. Birthday Concert with Beth, Big Hair Dude and Chris Isaac.
July 10, 2008
Hi Everyone, this is Kathy. I'm want to thank all the many family members and friends
who shared in this battle of mine against cancer with a joyful outcome. First, my daughter Lisa
who when I told her I had melanoma in my right eye said get on a plane and I will get you
the best medical help available and she did. She took such good care of me in so many other ways.
She really tried to get me to exercise more and eat healthy. She was with me every step of the way.
She also knew I needed fun along with all the many procedures I went through. I love her so much
and I'm so blessed to have her.
Stacy, my daughter-in-law, more like a daughter, who before I left
Michigan drove me to see doctors. Then while I was in California she helped so much with the
health insurance, making calls, getting things done. Along with my son Tom and Grandson Connor,
they had to move all of my things from my apartment to their house. Connor didn't want anyone
to sit on my couch.
My darling granddaughter Amelia, who constantly makes me smile with her stories, singing and dancing.
She would also say "I hope your eye feels better today and I love you forever."
My boyfriend Lou who understood I was right where I needed to be and came to Vegas just
because I needed to be held
My brother Mark who came to be with me when I had surgery and held my hand.
Mark Teschner who game me a beautiful place to stay and hugs and support. He took me
to see the play "Wicked" and I highly recommend it.
My Mom who wanted to be with me so much but knew I was doing just what I had to do.
I knew her love was with me every step of the way.
My son Gary and my grand kids Andrew, Samantha and Mickenzie for all their love and phone calls.
My Aunt Isabelle for all of her love, support, phone calls and cards.
All of my entire East Coast/West Coast network of family, friends and co-workers who called, emailed, and sent cards
filled with their love and support. Thank you so much. I really couldn't have done it without all of you.
I'll sadly leave California on Thursday, July 17th and be in Michigan Friday, July 18th
to see all of my wonderful friends and family. God has truly blessed me.
July 4, 2008
The cancer that keeps giving gave again. Dr. Wolin diagnosed my mom with DIPNECH,
(Diffuse idiopathic pulmonary neuroendocrine cell hyperplasia) is an extremely rare pulmonary lesion,
apparently she is number 41 in history with this type of carcinoid.and she's the only person
ever with both DIPNECH and Ocular Melanoma. Her thymus was not cancerous which
is good news as she will NOT have to have Chemo. She will start on 3 times daily
injections of Sandostatin after she gets back to Michigan and then eventually
get ongoing monthly injections. Basically her lungs are filled with pre cancerous
carcinoid tumorlets. If they grow to 1cm they are considered tumors and
then can metastasize. Sandostatin has been effective in patients with carcinoids
to impede the growth of the tumors. She will be monitored every 4-6 months
by Dr. Wolin to make sure the tumors don't grow. With the right care,
management, and monitoring she can have excellent long-term prognosis.
June 23, 2008
She is waiting to get scheduled for CT Chest, MRI Brain and Blood Work
for the appointment with Dr. Wolin on July 3rd. If everything is clear then
she just has an eye appointment on July 17th with Dr. Young.
then she is hoping to fly back to Michigan on the 18th!
June 6, 2008
Her appointment with Dr. McKenna went great. He removed the stitches and
told her that the thymus was not a carcinoid. She is feeling better everyday.
June 4, 2008
She is walking everyday and doing her breathing exercises and getting
plenty of rest. Uncle Mark is flying home tonight because she doesn't need him anymore.
We will find out the pathology results on Friday when
she see's Dr. McKenna to get the stitches out. Kathy made her acting debut in a
pilot I shot with my Production Company Candy Dish Entertainment.
Check out her excellent acting abilities at:
www.youtube.com
or
www.AltmanEnt.com
In Honor of my Grandmother Jan Johnson who is an 18 year breast cancer survivor
and my mother who is currently battling cancer I have been donating hats to the American
Cancer Society from my hat company www.HOTiLids.com which I started in 2001.
Enter Kathy in the coupon field right before the final checkout to save 50% off your order.
iLids will donate an equal number of hats from "Kathy" to the American Cancer Society.
May 31, 2008
She's home!!! She did great. Dr. McKenna called her a "Star Patient"
He said that the tumor in her thymus did not look like a carcinoid and
that the pathology on it will be back this week. He did not
have to do the sternotomy as he was able to get the thymus
through the neck. The tumors in her lungs looked like tumorlets
and he thinks she doesn't need Chemo. Great news!!!
Dr. Wolin will be the final say on that. She has to go on Friday
to get the stitches out. She was in surgery for 3 hours, recovery for 4 hours and
in the hospital for a day and a half. It hurts to cough and move.
The first day she was dizzy and nauseated but pushed her way
to almost sprinting down the hallway. Her recovery should
be much faster since he didn't have to do the sternotomy.
Thanks for all the visitors during the surgery including:
Uncle Mark who flew 3,000 miles, Roberta who drove 30 miles and
kept us laughing the entire day with her cartwheels down the hall.
Stu who brought food and a much needed fan, Bonnie and Chloe who brought more food,
and Barbara Buckley who brought Truffles!!
Thanks to Amy who prayed, held her hand and said she "looked
like an angel" after the surgery. Thanks for all the phone calls, texts and prayers.
Amelia and Mark made it to the hospital so Grandma could
see her little ray of sunshine. Thanks for the beautiful flowers from
Lou, Roberta, Luis, Dylan, Reuben and Kathy's family and friends.
Roberta also brought chap stick, lotion and tums which
you would think the hospital would have but don't.
We also got "Sweets for the Sweet" from Brad, Lori and little Lauren.
We really appreciate all the love and support that has
poured in for my beautiful, strong mother and our family.
I personally want to thank Janis Collin at Health Plus
who pushed every approval through and made this
surgery possible. After 4 months of praying for my mom
to be free of cancer it feels like such a relief to know
that she got the best possible thoracic surgeon Dr. McKenna
and will now be under the care of a carcinoid expert
Dr. Wolin. She had the best possible eye care
for her Ocular Melanoma at Jules Stein with Dr. Young
and her Melanoma Oncologist Dr. Ribas.
Thanks to Mark for letting her stay while she was
waiting for surgery and now for her recovery.
May 29, 2008
Today is the day. Mom is in good spirits. Last night Bonnie, Houston,
Chloe and Callie sent over Joan's on Third. I'm eating a brownie for
breakfast as I type. It was all so delicious and Mark and Uncle Mark
will be eating for days. Uncle Mark flew in Tuesday night and
yesterday we took my mom to Marina Del Rey for lunch. Jeremy brought
by flowers. Last night Amy came over to pray with us and she
brought flowers. She should be a minister, she had us both crying.
I will call when she is out of surgery to start the call chain and
as soon as I can I will update the site.
She said "I will be fine"
May 22, 2008
Surgery is scheduled for May 29th, 2008 with Dr. McKenna who
will remove the right lower lobe, a section of the middle and the
anterior segment of the upper lung and all of the Thymus and surrounding
tissue including paracardiac fat. We don't have the Octreotide results back but he will
look at the report to see if any lympth nodes are involved and
remove anything that is cancerous. He will need to do a
sternotomy which is what they do for open heart surgery so
that he can get at all of the cancerous tumors and remove 100% of them.
The surgery will be done a Cedars at 9am and will take a couple of hours
and she will be hospitalized for about 4 days with 2 chest tubes that
will be removed before she is released. Tomorrow is the last Octreotide
Scan at UCLA and then we will go to Cedars to have all the blood
work done for the surgery. I said to her "Mom, I see the light at the end
of the tunnel" and she said "honey, that's the train that's about to hit us"
She has never lost her sense of humor through all of this.
Even with over 30 Dr.'s appointments, surgeries, blood tests
and scans in the last 4 months.

May 19, 2008
This is the schedule for this week of tests:
Tuesday: 8 am Cardio Stress Test UCLA
Wednesday: 8:30am PFT (Pulmonary Function Test) UCLA
9:30 (we will be late) Octreotide Test (injection)
2:30 the 4 hour Octreotide body scan
Thursday: 8 am CT Chest with High Contrast UCLA
1pm Octreotide body scan
4:30 Appointment with Dr. McKenna (Surgeon) at Cedars-Sinai
Friday: 1pm Octreotide Scan UCLA
As soon as we have test results we will post them.
We are hoping for surgery the last week in May.
May 15, 2008
Dr. Wolin was approved through the insurance and Dr. McKenna
was as well so her surgery should be scheduled soon. Her
EchoCardioGram is today, and her Octreotide Test, High
Resolution Chest CT, Pulmanary Function Test, and Cardiac Stress
Test are all next week. Everything was delayed because of Insurance.
We went to Social Security yesterday and her disability will
kick in after September. As soon as anything is scheduled
for surgery we will post it.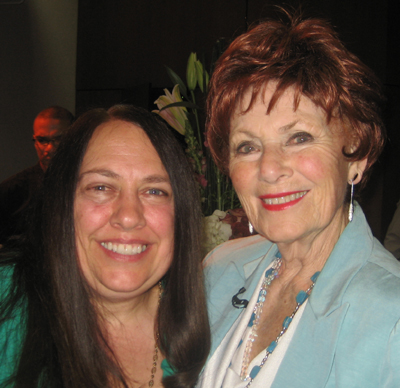 On May 6th, Kathy went to a special event at the Television Academy
and met a ton of famous "mom's"
This is Marion Ross from Happy Days.

May 9, 2008
Today Kathy had an appointment with the amazing Dr. Wolin at Cedars-Sinai.
The appointment took 5 hours but was worth it as she finally got the right
diganosis. Dr. Wolin spent over an hour looking at her scans and found
her primary tumor to be in her Thymus Gland. It's the size of a tennis ball
and was overlooked by every other doctor. Dr. Wolin is a carcinoid expert
and even though he doesn't take HMO insurance he wants to treat her.
He's going to work out something with the insurance because he feels
she's a special case and doesn't want to leave her care to anyone else.
Her cancer has metastasized to the lungs and he thinks the tumor in her
eye is carcinoid as well. The tumor is the most aggressive of all carcinoids
and he wants to remove the Thymus tumor and the lung tumors immediately.
On Monday we will find out when she will meet with Dr. McKenna who
is the best thorasic surgeon and he will hopefully squeeze her in for the
end of next week. We joined an online group called the lungoids when
we thought the primary was the lungs and everyone on the message boards
raves about Dr. Wolin and Dr. McKenna. We found the right doctors and
Kathy will get the best treatment possible and if it weren't for Dr. Wolin
she would've never been diagnosed correctly. We will let everyone
know when the surgery will be as soon as it's scheduled next week.
See May 8th (below) for some updates about what she's been doing in LA.
The thymus is a small organ located in the upper/front portion of your chest,
extending from the base of the throat to the front of the heart.
Thymic Carcinoids (TC) are rare tumors of the mediastinum with
fewer than 200 reported cases in the literature.
The behavior of carcinoid in the thymus differs from that of carcinoid in the lung.
Thymic carcinoids are malignant neuroendocrine neoplasms with the
potential for aggressive local, regional, and distant spread.
Surgery offers the best hope for treatment.

May 8, 2008
A 3 hour appointment with Dr. Young (well we waited for 2 3/4 hours)
and she said the eye is healing nicely.
On May 6th, Kathy went to a special event at the Television Academy
and met a ton of famous "mom's"
Bonnie Franklin, Cloris Leachman and Holland Taylor from 2 1/2 Men
Pictures will be posted soon.
April 28, 2008
It seems we are back to square one. Dr. Ribas is not a carcinoid expert
and has never dealt with anyone having these tumors, nor anyone who
has 2 types of rare cancer at the same time. He is sending her for blood,
urine, Echocardiogram and Octreotrate Tests that will pin point the exact nature
of the tumors. The biopsy shows that they are low grade
Neuroendocrine Epithelial Proliferation with features most consistent
with Carcinoid. They have metastisized throughout the lung but there
is no evidence they have gone further. The chromosome 3 test came
back that she has an increased chance of the melanoma spreading.
I'm going to find a Carcinoid expert that can offer a treatment plan.
Dr. Ribas is suggesting Chemo and Immunotherapy but from what
I have read they don't have a good prognosis of remission.
I found a doctor at Cedars Sinai and hopefully we will get
approval to get an appointment to see him.
April 24, 2008
The good news is that the tumors in her lungs are not melanoma like the eye.
The bad news is that they are carcinoid tumors that are also very rare
and have to be surgically removed as Chemo and other less evasive
treatments do not work on them. It only accounts for 1 - 3% of all lung cancers
and it is not attributed to smoking or other common reasons people get lung
cancer. They really don't know why people get them but my mom is so
unique so got 2 of the most rare cancers at the same time.
We will know more Monday when the pathology reports come back
on the exact type of carcinoid tumor. You can read more about them at
http://www.answers.com/topic/carcinoid-tumors-lung?cat=health
On a lighter note we had a great time in Vegas. She got to spend
3 days with Lou and see the Beatles show Love.

April 19, 2008
She did great. They took a lot of tissue as she agreed to let Dr. Young
have some samples to further her research. She said the pain was
the worst when they actually took pieces of the lung (8 times).
The ride home was pretty uncomfortable but she hung in there.
Today she rested, tomorrow she will rest, tomorrow night, well,
we will be in Vegas so I'm not guaranteeing anything.
We will have the results on Wednesday.
April 18, 2008
Hi everyone it's Kathy!!!!
I'm waiting to head to the needle biopsy in Santa Monica and a bit nervous.
It's a beautiful sunny California day. I'm looking forward to flying to
Las Vegas sunday and my best friend Lou Donagrandi will fly from
Michigan to spend 3 fun filled days in the dessert with me.
Thanks for all the love, support and prayers.
April 16, 2008
Kathy went to see the play Wicked last night and loved it.
She was a little sick yesterday but feels better today.
The lung biopsy will start at 1:00pm on Friday but
we have to be there at 11:00am. The nurse said
she should be ready to go home by 4 or 5:00pm.
The results usually take a few days up to a week.
She has kept her sense of humor (see below)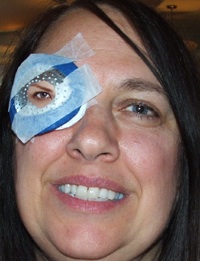 April 15, 2008
The CT guided lung biopsy will be on Friday at the Santa Monica Hospital.
The good doctor Ribas made a call and got her appointment moved from the
29th to the 18th. Hooray!! The cancer in her eye is Melanoma but Dr. Young
feels that the lung cancer could be something else as melanoma usually doesn't
metastasize that fast. The biopsy results will be in by the middle of next week.

April 8, 2008
Kathy got the eye plaque removed today.
She did great as always and has a follow up appointment with
Dr. Young next Thursday. Yesterday she saw Dr. Ribas at UCLA
and he wants to do a biopsy right away of the largest nodule of the lung.
He doesn't understand why Dr. Morton wants to wait to see how
the eye reacts to the radiation. Kathy agreed and will have
the large needle biopsy ASAP. Once there is an accurate
diagnosis of what kind of cancer we are dealing with we can
make a decision on the course of treatment.
She said there was only one bad day during the treatment
and everything else went really good.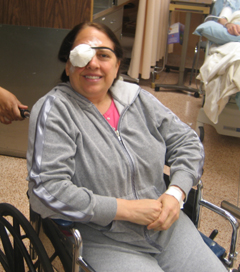 April 2, 2008
Kathy did excellent before, during and after surgery. Dr. Young said
she did wonderfully and that they only used half of the
anaesthesia they nomally use. She is resting in the guest house
and is officially in seclusion for the next week. Please feel free
to call her on the home number 818-728-1123
just unblock it *82 so she can see who's calling.
She see's Dr. Young tomorrow morning for a follow up
and then again next week for the removal.
I took a picture of her with the patch but she has
final approval for all photos so stay tuned.
April 1, 2008
Kathy got to see the taping of the Craig Ferguson's Late Late Show
with the Counting Crows, Jena Malone, Jean-Michel Cousteau,
and Forest Whitaker. The Counting Crows signed a CD for her.
We had the camera and with all the excitement forgot to use it.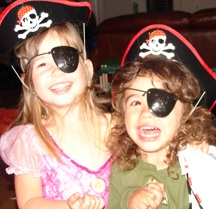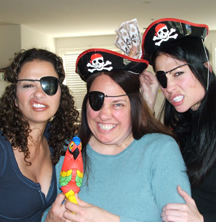 Plaque in the Eye Party - Amelia, Dylan, Roberta, Kathy, and Lisa
March 31, 2008
Good news!!! Kathy gets to see Dr. Ribas at UCLA, he's a melanoma
specialist. Her eye surgery is at 10:45am on Wednesday so send
some positive vibes her way at that time. Dr. Young who will
be doing the surgery is going to test her eye for the Chromosome 3,
if it's missing the chances are good that the spots on her lung
are melanoma. That's a much less invasive way to test
then a needle biopsy on her lung. She's getting nervous
as the day gets closer, she just wants it to be over.
My girlfriend Roberta is throwing her a "Plaque in the
Eye Party" tonight. Who's wants to bring the patches?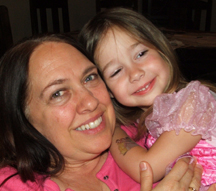 March 25, 2008
Sorry everyone, me (Lisa) sprained my neck a week ago and
have been in such bad pain even after the Chiropractor and Doctor's
visits. My doctor Richard Wulfsberg who helped get my mom into
John Wayne is sending me to psyical therapy and perscribed muscle
relaxers and vicodin. So now the website will be updated more often.
NOW onto the important stuff: Kathy's pre-op appointment is tomorrow
and her surgery will be on the 2nd. Dr. Morton will re-evaluate her one
week after the plaque is removed and schedule the surgery.
Dr. Young at UCLA wants her to see a melanoma specialist
which her insurance denied so that is this weeks project:
Get the insurance to change their minds.
March 18, 2008
Tammy from Jules Stein called and set up an appointment for
Thursday with the Radiation Oncologist and has Kathy's surgery
sceduled for April 2nd at 10:45am and then the plaque will
come out on the 9th of April at 8:30am.
Now we need to schedule appointments with John Wayne
for that week to start working on treatment of the lung.
March 15, 2008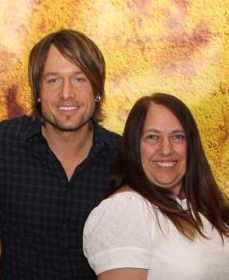 For all those who are confused that this is Kathy's Doctor
THIS IS KEITH URBAN!!!
Famous Country Music Star

March 13, 2008
Dr. Young at the Jules Stein Eye Institute wants to do the
radiation therapy surgery as early as the 2nd of April. But Kathy
needs a physical and to meet with the Radiation Oncologist first.
Dr. Young also wants Kathy to see the Melanoma Oncologist
Specialist at UCLA regarding the lung. She confirmed it's Ocular Melanoma,
more specifically choroidal Melanoma. We were there
for 6 hours today and have to go back a couple of times
before the surgery. Insurance, again, stopped us today
and we have to wait until tomorrow to see what the insurance
company will say about seeing all the specialists.
It feels like they stall a week on every decision
hoping we will give up or run out of time.
Universal Health Care is looking better and better.
We are off to see Keith Urban and Carrie Underwear
(as my brother calls her) at the Irvine Center tonight.
Our good friend Julie got us back stage passes so
tomorrow look for pictures of Kathy and the country music stars.
March 11, 2008
Kathy has an appointment with Dr. Young at the
Jules Stein Eye Institute on Thursday at 8am.
This past weekend we went hiking, to Cinema City
International Film Festival, and to St. Charles Catholic Church.
Photos from Durango Trip and from Universal Studios

March 7, 2007
Just waiting for the insurance to go through so
Kathy can get an appointment at the Jules Stein Eye Institute.

March 6, 2008
DO NOT GO TO LOMA LINDA UNIVERSITY PROTON CENTER!
We waisted a month trying to get treatment and now we find out the
doctor we saw there doesn't know what she's talking about.
Dr. Loredo said that we need to get a biopsy of the lung
before she would treat the eye but every other doctor
says we have to treat the primary tumor first and then
you treat the metastic tumors (lungs). So now we are off
to the Jules Stein Eye Institute to have her eye treated so
we can have the lung treated. Dr. Loredo also said
that Kathy has a brain tumor and today the doctors at
John Wayne Cancer Institute said she doesn't.
She also made Kathy get a mammogram even though
the doctors at John Wayne said breast cancer would
have shown up in the PET scan. What a waist of time
Loma Linda was. Once we get the eye treated, which
now involves the plaque therapy that takes 5 days,
Dr. Morton will schedule a lung biopsy for the next day
after that and then will remove the lung once melanoma is
confirmed. Then she will have immunotherapy and
be watched closely thereafter to make sure no
other tumors are present. Dr. Morton is the top
melanoma specialist in the country so even though
the proton therapy didn't work out, she's at the right place.
March 5, 2008
We got the results back from the mammogram and it is not
breast cancer. Now we have to hope that lung
cancer is the primary and that it metastized to the brain and eye.
The things we hope for....

March 4th, 2008
I finally got a call back from Carol at Loma Linda and she said Dr. Loredo
has not dictated the referral needed to get my mom an appointment
with the Opthamologist. A WEEK LATER!!! You would
think that since everyone says that time is of the essence
she would have typed out the referral herself that day.
I (Lisa) have to say that if I had known how inefficient and unrealiable
Loma Linda University Proton Center is I would have never
taken my mom there. Sacramento even with the cost of
a hotel would have been a better choice in hindsight.
SO, there is still no appointment with the Opthamologist as the insurance
always takes a week or more to accept the referral we are looking at
a month instead of weeks. Between the doctors and the insurance
I wish I would've taken her directly to Germany, they would
have cured her by now.
Just biding time until the Thursday morning appointment at John Wayne.
Had a great time in Colorado but are happy to be back
in the warm weather of Los Angeles.
February 28, 2008
We got an appointment to see the Oncologist Surgeon, Dr. Morton, at John Wayne
Cancer Institute for Thursday morning. This is the
surgeon we have been hoping to see. We will talk to him about
the lung biopsy and chemo. Kathy had her mammogram
today and we will find out the results on Wednesday.
We are headed to the Durango Film Festival tomorrow and will be
back on Monday. The website won't be updated again until then.
We are keeping her busy, Wednesday we went to Disneyland and
next Wednesday Mark, Amelia and I are taking her to Universal Studios.

February 27, 2008
Dr. Lorado wants Kathy to have a mammogram to rule out
the possibility of breast cancer as the eye doesn't look like a
typical melanoma so we are crossing our fingers that the eye
is metastic cancer from a different primary tumor.
The doctor wants her to go back to John Wayne Cancer Institute and
have her lung biopsied so that we aren't just assuming it's melanoma.
The eye treatment consists of several visits to an Optomologist and
then a cast has to be made of her head for the actual radiation treatment
and then the treatment will be just 5 times, Monday through Friday.
We are looking at about 2 weeks until the radiation will actually start.
If it's not a melanoma cancer that would be the miracle we
are praying for. Any other cancer is much easier to cure.

February 26, 2008
WE GOT AN APPOINTMENT!!!
Wednesday at 8am at Loma Linda Proton Therapy.
We should be done and back here by noon or so,
the website will be updated with her treatment plan tomorrow.
Thanks for your prayers.
February 25, 2008
Dr. Faries called with the test results from the PET scan:
There is no metastic disease evidence in her lympth nodes, only
minimal activity in the lungs as the nodules are very small.
There is no evidence in any other part of her body besides
the eye and brain. We still have no appointment scheduled with Loma
Linda and it's VERY frustrating.

February 23-24, 2008
Kathy helped direct and work on the crew of Luis Angel's Music Video.
When it is edited we will put up a copy on this site.

February 22, 2008
Talked to Carol who is the pateint coordinator at Loma Linda for Dr. Loredo
and she said we still need insurance approval and all the eye exams from
Dr. Vine in Michigan. If we get both of those things by Monday we can have an
appointment on Wednesday. Finally, we actually get a date for an appointment
with the radiation doctor to treat the first tumor in her eye 3 weeks later.
February 21, 2008
This morning we found out that there is a tumor in her brain.
She came up with the "Tumor Song" and sang it all day.
We called Loma Linda to make sure she would be discussed on the tumor
board today and the lady said they didn't have all the test results they needed.
Our good friend Stu drove the 3 hour round trip journey to Loma Linda to
drop off the disks with all the scans and tests. The board met at
4:00pm and we should get a call tomorrow to set up an appointment.
We spent the day at the PET scan.
February 21, 2008
The anxiety is getting worse as we wait for tests and treatments.
We sent a letter to Loma Linda begging for treatment and are calling this
morning to try to get the PET scan today. We still don't know the
results of the MRI because a doctor has to tell her what they are and
so far when she calls no one is available.
February 20, 2008
The insurance myth is a reality. We have been waiting two days
to get authorization for the PET scan. Hopefully all the referral forms will
come through by tomorrow as everyone at the doctors office, imaging center and
insurance company is getting sick of our phone calls. But as Stacy says
"the squeaky wheel gets the oil" so we call and call again.

February 19, 2008
Appointment with Dr. Mark Faries, MD, Oncologist, at John Wayne Cancer Institute.
Recommended course of therapy:
1. Eye Treatment, (Proton Therapy) at Loma Linda
Dr. Faries said there would be a little loss of eye function but
it would be better than the plaque radiation therapy alternative.
2. Lung Treatment at John Wayne Cancer Center
He is sending her for a PET Scan tomorrow that will
show the nodules in the lungs. Once the results are
back he wants to do a lung biopsy and check her lung function.
While she is under he will test the nodule for cancer and if it's
positive he will remove the lung. He's not sure about the enlarged Lymph node
but will know more when the results are back from the PET scan.

3. Immunitherapy Injections (TB Vaccine used to help stop the spread of cancer)
After this vaccine he would consider it treated and not recommend
any further treatment. We are hoping to hear different news
from Dr. Morton (the head Dr. at John Wayne) who has
treated metastic patients with Chemo and has a 40% rate
of survival past 5 years compared to the 6-20% other doctors have reported.
We will hear on Thursday from Dr. Loredo, Radiation Doctor, at Loma Linda
when she will start the treatment for the eye.
February 17-18, 2008
Went to church, had lunch at the mall, bought a juicer,
rode subway to train, took train to Long Beach,
took taxi to Helicopter, took Helicopter (first time)
to Catalina Island (first time), went on a submarine (first time),
reversed forms of transportation to arrive
back in Los Angeles the next day.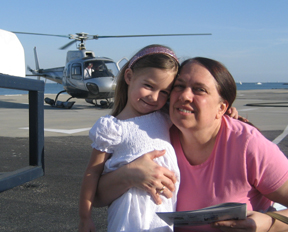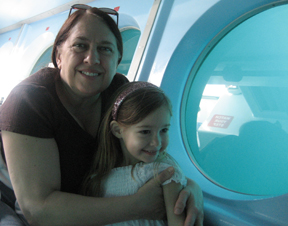 First Helicopter and Submarine Rides
February 16, 2008
Flew into Los Angeles Airport, ate at the Close Encounters Restaurant,
drove to Santa Monica pier, put feet in ocean, rode ferris wheel
went to Mark, Lisa and Amelia's and went in the hot tub.
February 15, 2008
Appointment with Dr. Danish, Oncologist, in Flint, MI
Stacy (daughter-in-law) took her to see what course of
treatment he recommended. He ordered a brain MRI
and said he would treat the eye and then the lung.
There are 5 nodules in the lung and an enlarged lymph node.
February 12, 2008
Did research and found a therapy to treat the eye that is
only offered at 6 locations in the United States.
One hospital is Loma Linda just outside of Los Angeles.
Decide to stay with daughter Lisa in LA
to get treatment as treatments in Los Angeles
are the most advanced and progressive in US.
February 11, 2008
Cancer has Metastasized to Lungs.
February 5, 2008
Diagnosed with Ocular Melanoma.
Kathy would like to thank her friends at Genesys Regional Medical Center for
the fundraiser they had to help with the expenses during this difficult
time that she is off from work.