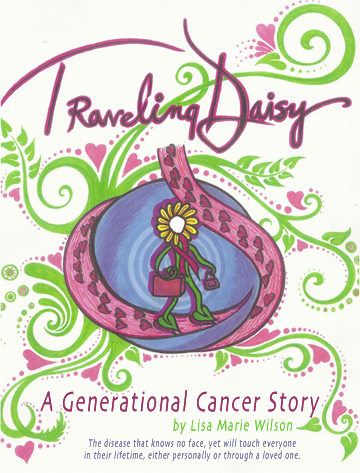 Traveling Daisy includes information about Ocular Melanoma, Carcinoid Tumors, DIPNECH, Thyroid Cancer, and a mention of Breast and Colon Cancers. Through five generations, we have dealt with each of these cancers by helping our parent through it and then getting cancer ourselves. It's a journey through which I've learned about what to do and what not to do when dealing with disease.
I decided to share our story, so that others will be better equipped to fight for themselves. It's with this book that I hope to educate people about everything I know about cancer.
Available in paperback and also Kindle for 99 cents with
all proceeds benefiting the Melanoma Research Fund.
I created for my mom, Kathy Ann Wilson, a website to chronicle her cancer journey, and gave it the name Traveling Daisy; as she was as delicate and beautiful as a daisy but never truly planted her roots in life. She lived in too many places to count and so many cities that everyone wrote her address in pencil. She searched the U.S. for happiness traveling to Florida, California, and Hawaii but continued to end up back in her home state of Michigan. However, her passing was with me in California. She saw me into this world and I saw her out.
Five Generations of Cancer (clockwise)
Caroline Noyes ~ Breast Cancer
George Thornton ~ Colon Cancer
Janet Sue ~ Breast Cancer Survivor
Kathy Ann ~ Ocular Melanoma Metastasized to Liver and Carcinoid Tumors in Lungs called DIPNECH
Lisa Marie ~ Thyroid (Follicular Variant of Papillary Carcinoma with poorly differentiated features) Survivor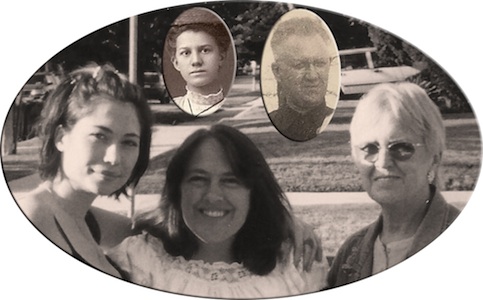 ABOUT KATHY ANN
Kathy Ann Wilson was diagnosed with Ocular Melanoma February 5, 2008.
(affecting 6 people in a million)
On April 24, 2008 she was diagnosed with Carcinoid Tumors in her lungs.
(1,700 people are diagnosed every year)
By July 4, 2008 the doctor told her she had DIPNECH.
(about 50 people have this disease)

On October 23, 2009 a CT scan revealed
numerous tumors on her liver. The findings are consistant with Metastatic Melanoma.
(40% of ocular melanoma patients will develop metastasis)

Kathy fought a fierce battle with three rounds of full body Chemo and two infusions directly into her liver.
She passed away on March 9th, 2010.


Support my Melanoma Walk to raise
money for research.



About me
I am a mom, actress, producer, model, writer, I own a hat company and I'm a cancer survivor. I grew up in Michigan but have lived in southern California for most of my adult life. I feel that I am somewhat of a cancer expert and am compelled to help others. Cancer sucks but a positive attitude makes the journey bearable. If you have cancer, I wish you success with your battle.